Holiday apartments
at our organic farm
The four holiday apartments at the organic farm – What more could you wish for?
When furnishing the holiday apartments in Bressanone, the Klammer family made a conscious decision against TV and Wi-Fi. This ensures that you may enjoy every day of your vacation without any worries. No appointments – no dark news from all over the world and no intellectual "fast food". Just you, your loved ones, nature, and plenty of time!
We are convinced that our guests will receive great benefits and can enjoy their holiday at the farm Marxenhof undisturbed and to the fullest. A holiday should be an experience that stands in contrast to everyday life and from which fresh energy can be drawn. The farm Marxenhof and the region around Bressanone offer countless experiences to relax and unwind. The great views of the mountains and the deep valleys give you space to let your legs and mind wander.
For those guests who cannot do without an Internet connection, we have set up a cable connection in our lounge. Furthermore, EU-wide data roaming offers internet access via smartphone.

For 2 persons with one extra bed
Dual
Radlsee
from 129,00 €
HOLIDAY APARTMENT


WITH BREAKFAST

read more …
Period
Brixen / Dolomiten
Price 2 adults
Plose / Radlsee
Price for 2 adults & 2-4 children
30.09.2023 - 14.10.2023

Herbstferien

Autumn Holidays

Vacanze d'Autunno

113,00 €
167,00 €
15.10.2023 - 28.10.2023

Erntedank

Harvest Festival

Ringraziamento del raccolto

104,00 €
152,00 €
29.10.2023 - 05.11.2023

Herbstliche Gemütlichkeit

Cozy Autumn

Coccole d'Autunno

113,00 €
167,00 €
06.11.2023 - 30.11.2023

Törggelen

Toerggelen

Toerggelen

86,00 €
129,00 €
01.12.2023 - 17.12.2023

Advent

Advent

Avvento

104,00 €
152,00 €
18.12.2023 - 07.01.2024

Weihnachten

Christmas

Natale

113,00 €
167,00 €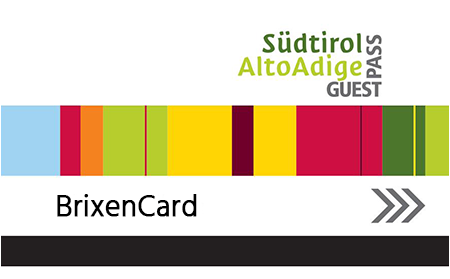 Holidays with the BrixenCard
Car-free vacation / BrixenCard / Top offers
An all-inclusive vacation at the farm Marxenhof offers you – and your car – a welcome break. We'll give you the BrixenCard, which grants you many free and discounted leisure opportunities in the holiday region around Bressanone.
Free use of all public transport in our region.
Among others, ski bus and city bus: Just a seven-minute walk from the farm there is a bus stop (with buses every 20 minutes).
Public bus – The stop is only 150 meters away
Free or reduced admission to museums, Acquarena, Mount Plose, and much more.
Free offers on our organic farm
Free of charge:
Farm experiences
Hand and bath towels, kitchen towels, toilet paper and hair dryer, bed linen, dishwashing soap, dishwasher detergent
Towels and kitchen linen will be changed at any time on request
Down duvets and allergy-free duvets are available on request
Safe
Toddler equipment (cot, highchair)
Common room and playroom with library, board games, play area for children, hiking maps and an electric piano.
Outdoor BBQ area
Fresh aromatic herbs from the herb spiral
Parking lot
Farm tour (on request)
Transfer service from the train or bus station in Bressanone on arrival and departure
BrixenCard
Toboggan rental and bike rental
Final cleaning
Arrival
The price is valid for a stay of at least 4 nights. For less than 4 nights, we reserve the right to adjust the price if necessary.
The rooms are ready for you at 3 pm on your arrival day. On the day of departure, we kindly ask you to check out not later than 10 am.
Booked rooms will be charged even in the event of late arrival or early departure. Cancellation is free of charge up to 60 days before the start of your holiday. In the event of a later cancellation up to 28 days before the start of your holiday, the deposit will be withheld (3 days per week). If the booking is cancelled less than 28 days before departure, 100% of the entire stay must be paid.
Holiday apartments
Bed linen, towels, tea towels, dishwasher detergent, dishwashing soap and toilet paper are provided.
The apartments offer space for 2-3 or 4-6 persons.
In the apartments "Brixen" and "Dolomiten", an extra bed can be added in the bedroom or in the eat-in kitchen, if necessary. The surcharge for the extra bed is € 14.00 per day for guests from 4 to 18 years of age and € 25.00 per day for guests older than 18 years. Kids up to the age of 4: free of charge.
In the case of an occupancy of more than two adults, € 25.00 per night will be charged for each additional guest.
The local resort tax is not included in the price (Euro 1.55 per day and person of 14 years and above).
A cot and highchair are available upon request.
Pets are welcome. For your well-behaved, four-legged friend we charge 10 Euro per day (food is not included).
Deposit
Deposit (booking confirmation) for one week 300.00 / 500.00 Euro per apartment.
Please make the final payment in cash or by bank transfer, we are not equipped for credit cards.
In order to confirm the booking, a deposit of 300.00 / 500.00 Euro per apartment (for one week) is necessary.
We would be grateful if you could notify us by email after the deposit has been transferred.
The booking expires if the deposit is not made within one week after the bank details have been made available.
Terms & conditions for cancellations / Travel insurance
We are looking forward to your visit! Until 3 months before arrival, you may cancel your booking free of charge. From 3 months until 4 weeks before arrival, we will charge 3 days of the total price of your stay. In case of a cancellation within the last 4 weeks before arrival, we will charge 100% of the total price.
As a special service and to save fees, we offer the Red Rooster cancellation cover.
Read more about the benefits of the travel insurance here.
Exclusion of liability
We strive to provide accurate and complete information on this website. However, we assume no liability or guarantee for the topicality, correctness and completeness of the information provided. We reserve the right to make changes without notice or to amend the information. Only the specific service offer or the booking confirmation is binding. For external links we can – despite careful control – assume no liability. For the content of linked pages exclusively their operators are responsible.
Data Protection
For the purposes of the GDPR, we inform you that your data will be used and saved exclusively for processing your application and will not be disclosed or distributed to third parties. Regarding data processing, you are entitled to all rights according to the GDPR. The holder of the rights is Matthias Klammer – For more information about your rights, please visit here.
Consumer Protection
We expressly refer to the statutory provisions of article 45-67 in the Italian Consumer Protection Code, Legislative Decree 206/2005.
The Klammer family wishes you a relaxing holiday at the farm Marxenhof!